Newsletters
Newsletter - 2sd issue - November 2017
Moving away from an « ownening » mentality for the environmental commons to an ethics of « responsibility », and 'guardianship/stewardship', while integrating the imperatives of equity, social justice and democracy, represents for us the keystone for an ecological transition that would be environmentally sustainable and socially just. In this context and while the nations of the world gather for the 23rd Annual Conference of the Parties (COP23) under the United Nations Framework Convention on Climate Change in Bonn, we focus our attention to the small island nations perspective -as underlined by the Fiji Presidency of the COP23- thanks to the contributions of the many Pacific-based Alliance-Respons members and partners based in the Pacific...
Here follows the second issue of our Newsletter :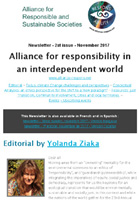 Newsletter - 1st issue - 25th May 2017
We celebrate the first Newsletter of the Alliance for Responsable and Sustainable Societies, and the inauguration of a news link with friends and partners throughout the world.
In this newsletter we feature some of the current activities of partners under four categories: Partner's activities, Thought leadership, Recent resources, Upcoming Events. For this issue contributions span Global Citizenship Education, training for Social Protection and a new video on Climate and Responsibility in which Isis de Palma presents the challenges faced by humanity to stabilize the climate on the planet in the coming years. We have the responsability of retirees, and cities as sites of transformation, law and governing the commons, and responsibilities that arise from interdependence in the Anthropocene.
Good reading !